Saturday, May 24, 2008
Killer early work from Horace Silver -- and a rare non-Blue Note session from the 50s! The album's Horace's only date for Columbia, and it's got a feel that's similar to some of the Jazz Messengers' hardbop recordings for the label at the time -- cooking with a soulful intensity at the bottom, yet taking off with some tremendously well-carved solos on the top! The group's an all-star ensemble that includes some of the best hardbop players of the time -- Hank Mobley on tenor sax, Donald Byrd and Joe Gordon on trumpet, Doug Watkins on bass, and Kenny Clarke and Art Taylor on drums -- all grooving together with Horace as if they'd been backing him up for years. Titles include great originals "Silver's Beat", "Shoutin' Out", and "Hank's Tune -- plus versions of "I'll Know" and "The Night Has A Thousand Eyes".
1. Silver's Blue
2. To Beat Or Not To Beat
3. How Long Has This Been Going On?
4. I'll Know
5. Shoutin' Out
6. Hank's Tune
7. The Night Has A Thousand Eyes
Download
Posted by

Sax Mann
at 7:47 AM
No comments:

Friday, May 16, 2008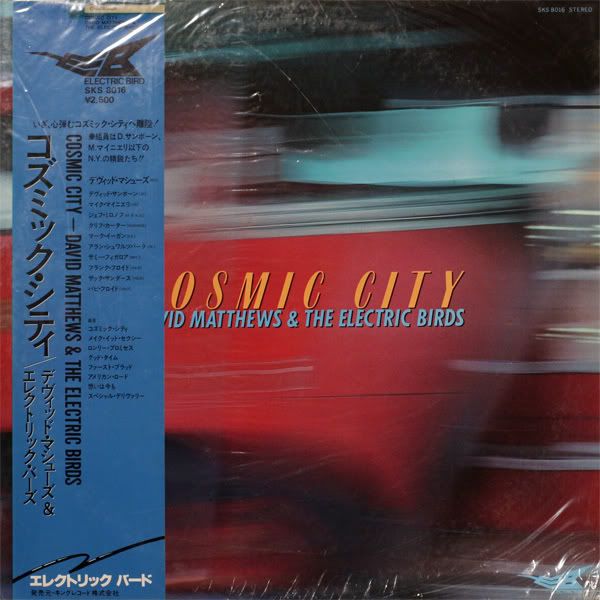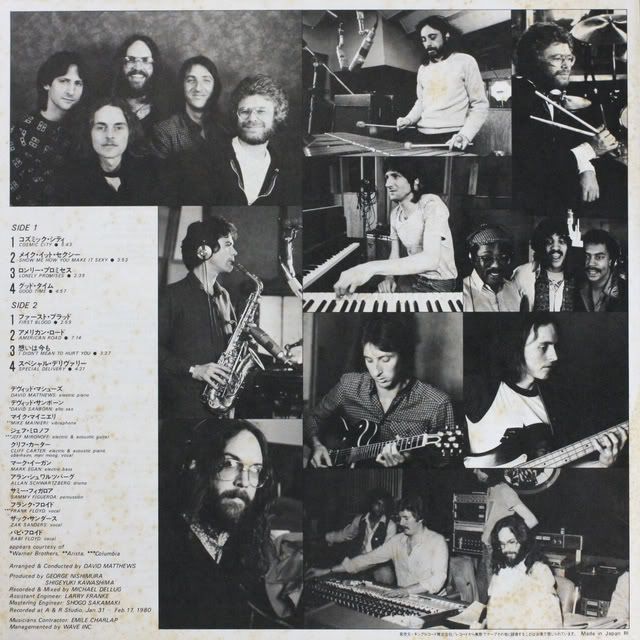 Keyboardist and arranger David Matthews did this album in 1980 for King Records, the all-star cast includes David Sanborn, Mike Mainieri, Jeff Mironov, Cliff Carter, Mark Egan, Allan Schwartzberg, Sammy Figueroa, Frank Floyd, Zak Sanders and Babi Floid.
1. Cosmic City
2. Show Me How You Make It Sexy
3. Lonely Promises
4. Good Time
5. First Blood
6. American Road
7. I Didn't Mean To Hurt You
8. Special Delivery
Download
Posted by

Sax Mann
at 9:32 AM
1 comment:

There's no denying drummer Gene Dunlap's résumé -- stints in support of Grant Green and Roy Ayers are the funk equivalent of earning Ph.D.s from Harvard and Yale -- so it's little surprise that his debut LP, It's Just the Way I Feel, is such an effective and engaging listen. Dunlap's operating well outside the jazz sphere, however, and despite some obvious fusion-inspired moments, this is first and foremost a straight-up soul album, with a strong balance between slick, dancefloor-ready groovers and heartfelt ballads. Most impressive is the handful of tracks featuring the Ridgeways, an all-girl vocal trio whose sexy harmonies mesh perfectly with Dunlap's crisp, supple rhythms. ~ Jason Ankeny, All Music Guide
A review from Dusty Groove
An excellent fusiony soul album on Capitol, recorded and released during the crucial years of the "Capitol Rare" sound! Gene Dunlap is a jazz drummer at heart -- but he's got a flair for the modern soul song, and in the same style as Norman Connors or Harvey Mason before him, he manages to put together a strong record of grooves and ballads from behind the kit! The strongest point of the record is work by The Ridgeways, a female soul trio who sing on the best tracks, giving them a smooth Jones Girls-ish kind of sound. The album includes two modern soul classics -- "Before You Break My Heart" and "It's Just the Way I Feel" -- plus "Love Dancin", "Rock Radio", "I Got You", and "Surest Things Can Change".
1. Intro
2. Rock Radio
3. Before You Break My Heart
4. I Got You
5. Love Dancin'
6. It's Just the Way I Feel
7. Should I Take Her Back, Should I Let Her Go
8. Surest Things Can Change
Download
password is funkycool
c/o
Funkyking
Posted by

Sax Mann
at 8:13 AM
7 comments: